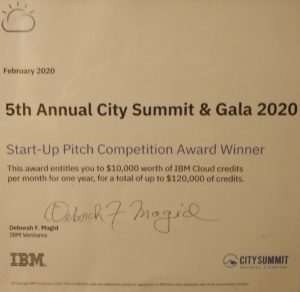 iCEIBA is proud to be the recognised as Start-Up Competition Award winner at the Annual City Summit & Gala, where entrepreneurs and celebrities joined together to help build successful businesses and social enterprises for good, sponsored by IBM.
"iCEIBA was the selected winner in the City Summit StartUp Pitch Competition. Ten experienced investors choose from 15 amazing companies in a tough competition. iCEIBA took home equivalent of ¼ Million dollar in prices, among them $120K worth in @IBM cloud service, which will help them to quickly accelerate into the next FinTech unicorn." – Axel Tillmann
iCEIBA was selected as the winner by a panel of distinguished judges including Alec Stern, Brian Mac Mahon (Expert Dojo), Aaron Scott Young (Laughlin Associates), Gino Russo ( Adi Dassler Family Office (ADFO) ) Michelle Seiler Tucker MAMI, CSBA, CMAP, CBB ( Seiler Tucker Incorporated) , Deborah Magid ( IBM), David Ament ( PEAK PERFORMANCE Group of Companies) and Brock Felt.